Jeti's Ability to Get Just What You Need
Have you ever run into a situation when shopping for a product where you need more than the basic model offers, but not necessarily all the bells and whistles of the top model? Typically you end up getting stuck paying for something you do not need and won't utilize. Jeti understood the assignment. The Jeti line of transmitters are not just offered in several model options, but they took the customizable advantage one step higher with the ability to add-on software modules as you need them.
Having the ability to pick-and-choose the software features you will use is a more economical way to fly Jeti. There is no need to pay for a feature you will never use, instead, put that dough towards more airplanes (or Jeti equipment)!
Don't worry though, you can continue to purchase module add-ons for the entire lifetime of the product. This way, you don't have to worry if your RC needs change, simply purchase what you need when you need it!
Jeti DS-16 G2's, Jeti DS-14 G2's, and Jeti DS-12's are all available for software module upgrades. The chart below shows what each transmitter has and what can be upgraded.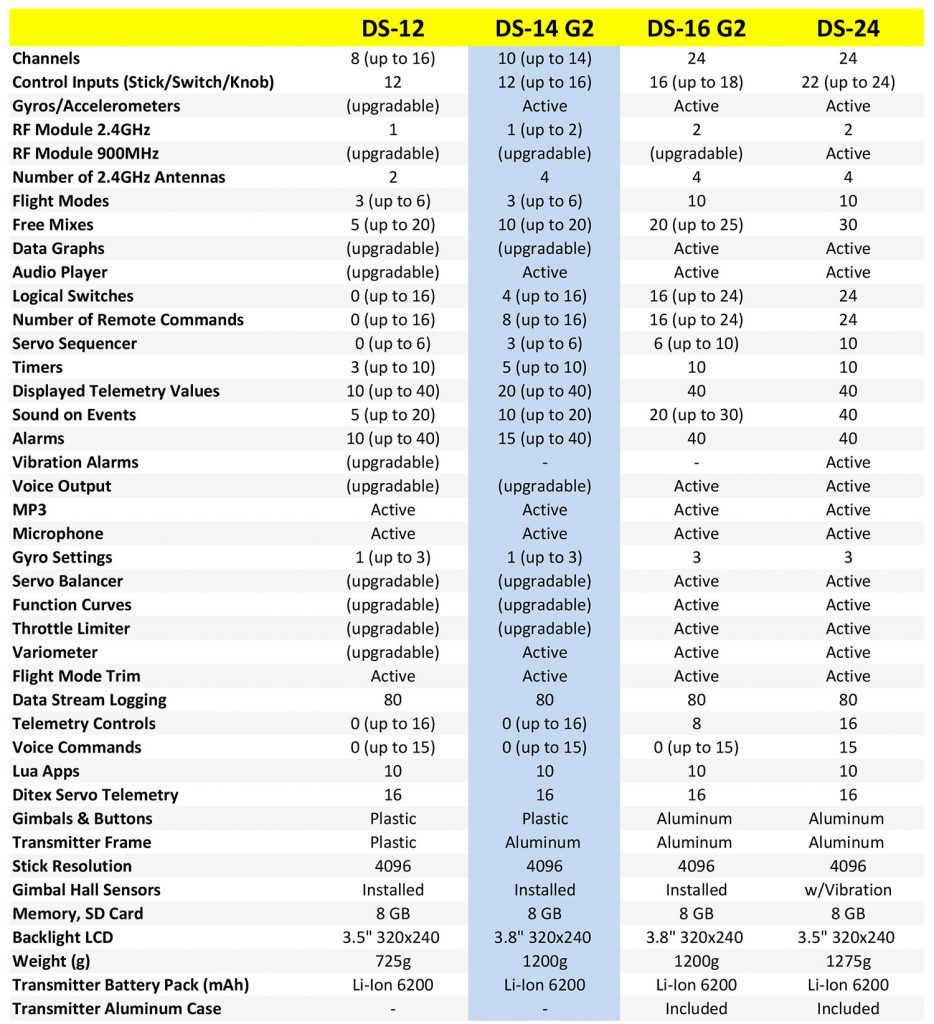 If you don't want to purchase each module al carte, but do not need all the software modules, we have options for you too! All of our DS-12 Transmitters offer software packages. We grouped together the modules we felt were most used and provided them to you in pre-installed packages. Not only does it result in fewer steps on your part, it also can save you a little! Our standard DS-12s offer four versions: Basic, Package A, Package B, or Deluxe. Special Edition DS-12s are offered in Basic or Deluxe only. You can see what that includes below.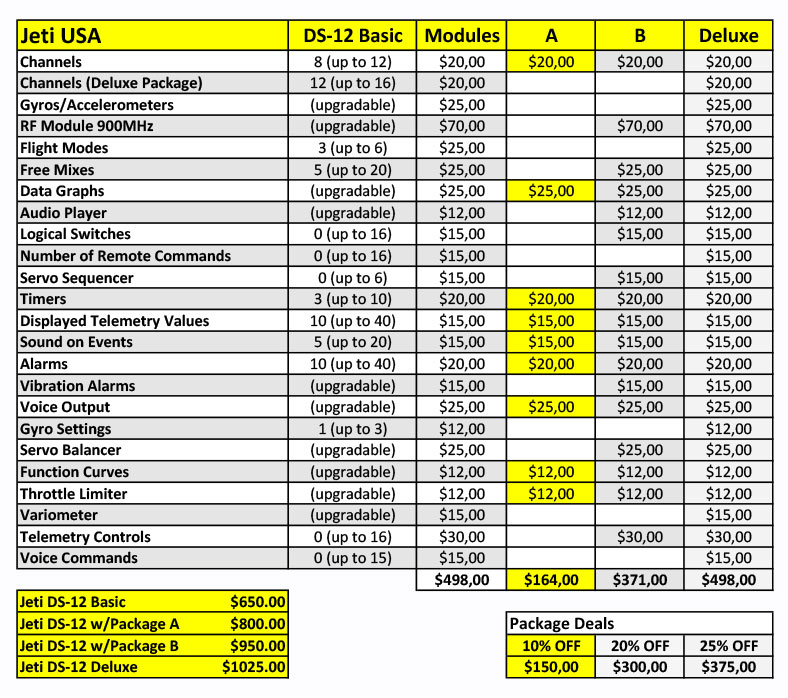 * Prices are listed in Euros, and subject to change.
It is simple to purchase the software modules.
Here is how to do it:
Step 1: Head to swshop.jetimodel.com.
Step 2: Find the product you purchased and click "Register New Device". You will need to create a username and password, if you do not already have one. In addition you will need the serial number and registration number found in the transmitter.
Step 3: Purchase your modules. You will then receive an email (within a few days) with an activation file. Once your receive this file, connect your transmitter to your PC with your USB cord and extract the activation file into the root file of your transmitter.
Please note: Activation files "activation.bin" are created and sent manually, every day from Monday to Friday from 6am to 1pm UTC. They will not be sent out outside of these times.
Check out our line of transmitters here or at Esprit Tech!